premium exterior services
Residential & Commercial Installations
do you have a construction project we can help with?
Remarkable Installations
We make a point to offer only the industry's best-performing products so that you can have complete confidence in the results of your project. Whether it's roofing, siding, soffit & fascia, or gutters, we're the home exteriors contractor of choice for homeowners who want to know their investments were built to last.
We aim to make you 100% satisfied with your roof replacement or other home improvement project by delivering the high standards of service you deserve. We'll use the latest technology to thoroughly inspect your roof for all signs of damage, identifying any problems as well as their causes. From there, we'll recommend the most appropriate solution for your needs. We strive to be extremely detailed in our scope of work to get you the best value for your money.
Contact us to learn more about what we can do for your home. We proudly serve businesses and homeowners in Edwardsville, Glen Carbon, Troy, and surrounding areas.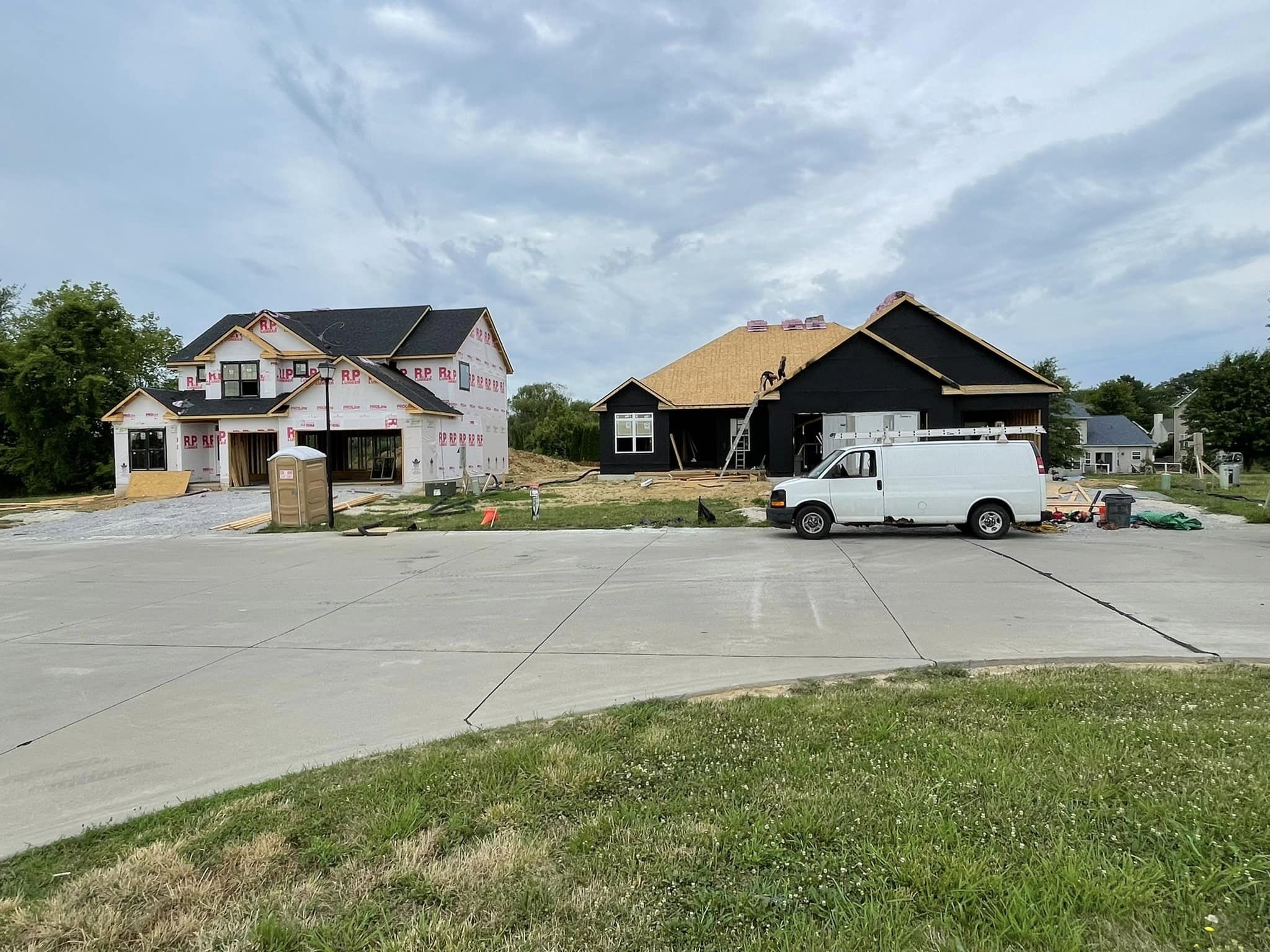 Your Trusted Roofing Contractor
Unlike many of the other major building components of your home or business, your roof, in many ways, is the most fragile. It's prone to expansion, severe weathering, and contraction, taking the brunt of Mother Nature's force on a daily basis. Despite all of these susceptibilities, though, your roof is the most crucial part of your home. It's what keeps you comfortable and safe from the elements.
Repairs
Understandably, you may feel extreme frustration when facing a leaky roof. As a leading Metro East area roofing contractor, Michael Ryan Exteriors is here to help you ease those frustrations and provide you with a quality roof leak repair that will last for many years.
Michael Ryan Exteriors is a full-service roofing company that is passionate and experienced in all aspects of roof leak inspections. Our commitment is to locate the cause of your roof leak, and quickly but effectively stop it. Our top priority is stopping it so the damage doesn't spread to the rest of your roof, and the rest of your home or business. We will help you with flat, tile, metal, and other types of roof leaks to save you money and protect your assets.
Replacement
Initially, we will examine the condition of your property's roof, and we will determine if a roof replacement or a simple repair project would yield the best results. All buildings will need either a commercial roof replacement or a residential roof replacement periodically.
As your home or business roof is regularly exposed to the elements of this harsh Midwestern weather, it may become damaged beyond repair. During this time when your home or business's roof is damaged and in need of a roof replacement, your home is vulnerable to weather-related damage to the interior, such as from a roof leak. It is also vulnerable to pest infestations, reduced energy efficiency, and several other negative consequences.
Consultation and Inspection
Because of how important the quality and condition of your roof is, you need to contact our friendly team of roofing experience to get a consultation and inspection at the first sign of damage to your roof. We will let you know if a roof replacement is needed or if the issue can be resolved with a roofing repair service
No more risky walks on your roof, searching for the source of a leak in the pouring rain. Leave that to us! We are a fully insured and licensed roofing contractor – ready to come to your home in a flash, to meet your leaking roof with the best possible solution.
Contact us to learn more about what we can do for your home. We proudly serve businesses and homeowners in Edwardsville, Glen Carbon, Troy, and surrounding areas.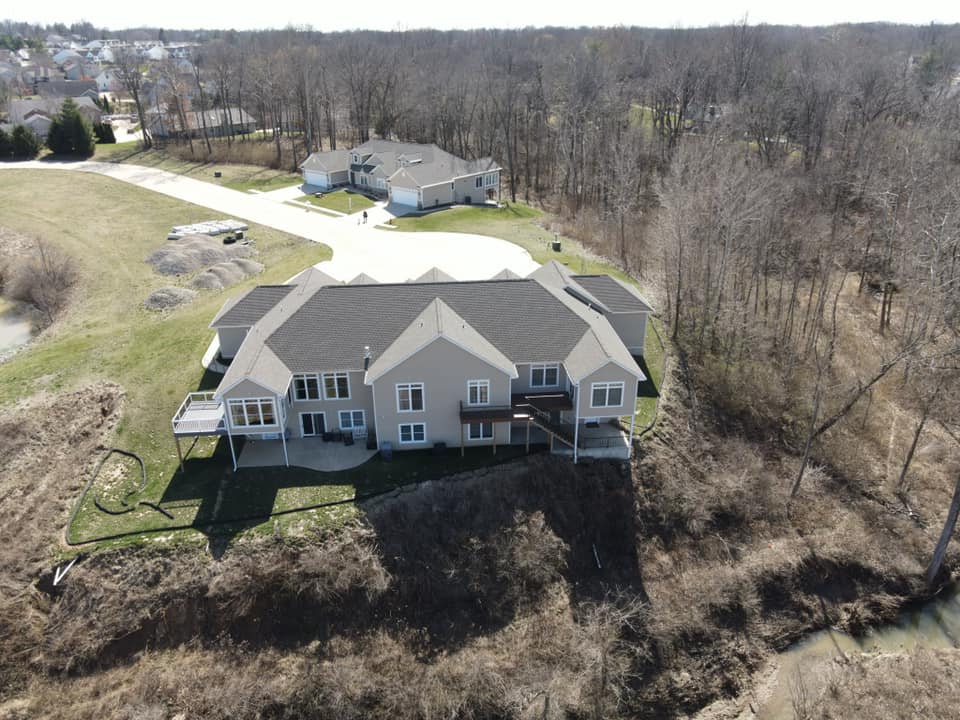 Seamless Renovations
Our seamless gutters and gutter guards will perfectly fit your home's aesthetic while keeping it protected from costly water damage.
We'll start your gutter installation process with a thorough inspection of your gutters to help you determine the best solutions for your needs and budget. You can count on our crews to show up on time and complete the work with the utmost skill and attention to detail. Don't wait until it's too late to get your gutters inspected. If your property has recently suffered through a rough storm or it's been a while since you've had your gutters cleaned, call in our professionals to maintain them.
Varying aspects of your home's roofline, pitch, overhang, fascia, and valleys all need to be taken into consideration when a gutter installation is designed and performed on your home. Over time, water can do serious damage to your home's structure, foundation, and property. A gutter and drainage system are just one of the key ways of directing water away from it.
Contact us to learn more about what we can do for your home. We proudly serve businesses and homeowners in Edwardsville, Glen Carbon, Troy, and surrounding areas.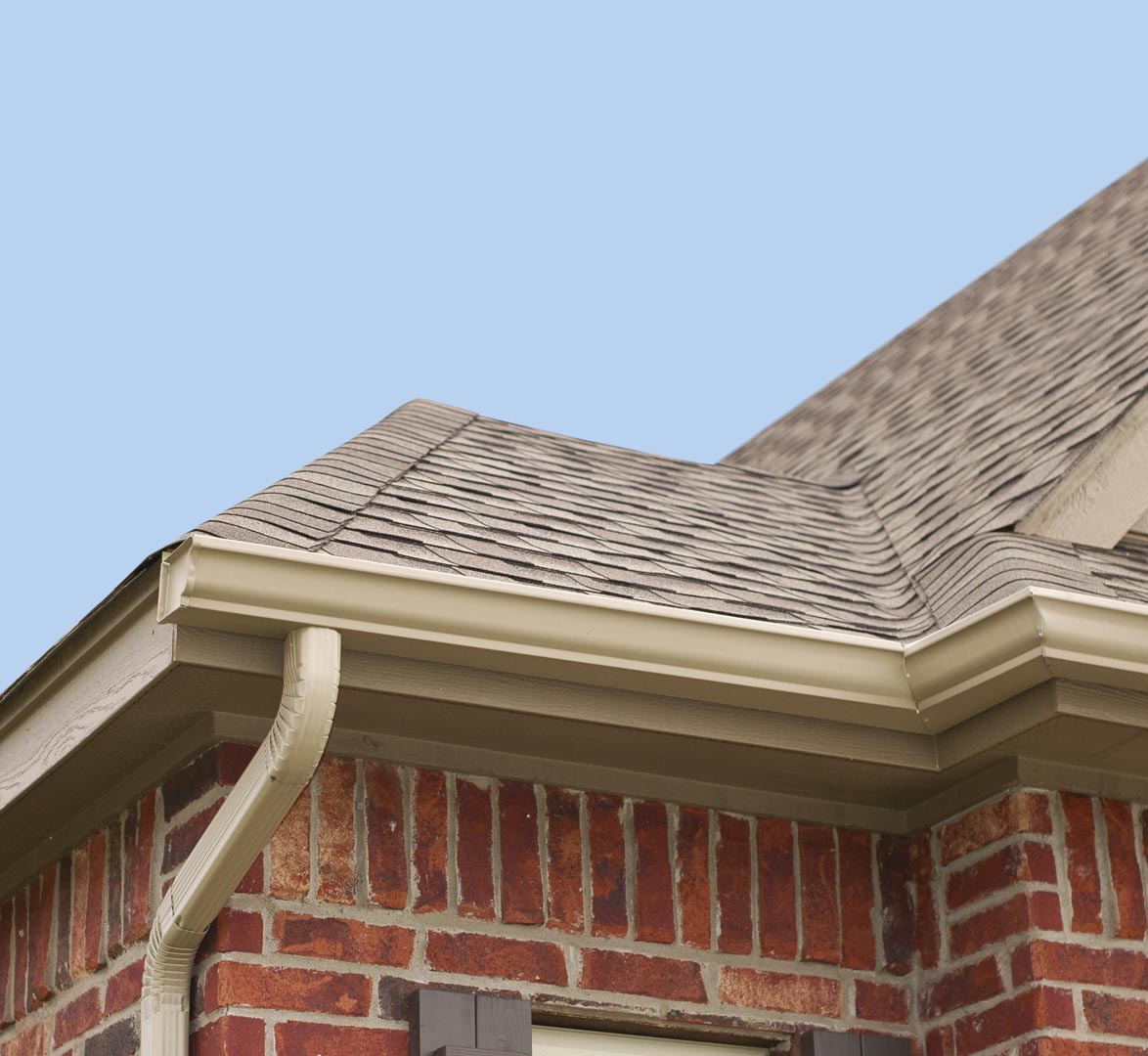 Enduring Performance
Michael Ryan Exteriors installs advanced siding systems designed to provide enduring performance.
Siding makes up the majority of your home's exterior, which means that it contributes heavily to its energy efficiency, curb appeal, and protection against the elements. Indeed, siding that is worn and damaged is more than just an eyesore—it can also cause monthly energy costs to skyrocket and allow water and pest infiltration that compromises the structural integrity of your home.
As your siding contractor, we will provide a custom solution that is ideally suited to your needs. From high-performance yet budget-friendly options to the most advanced vinyl house siding systems available on the market, you're sure to find the perfect option for your home.
No matter which type of house siding you choose, you can be sure it will provide long-lasting, best-in-class performance. Our siding systems are made from premium, thick vinyl that can withstand anything Mother Nature has in store for decades without a hint of deterioration. And, your siding replacement project will be the perfect opportunity to upgrade your home's visual appeal. With a variety of beautiful styles and colors to choose from, you'll be able to create a look that is uniquely your own. Best of all, our siding will require virtually no upkeep to maintain its like-new appearance.
If your home is due for siding replacement, Michael Ryan Exteriors can help you make the most of your investment. We are local siding experts providing homeowners in Edwardsville, Glen Carbon, and Troy, IL with the industry's best-performing products and skilled installation services.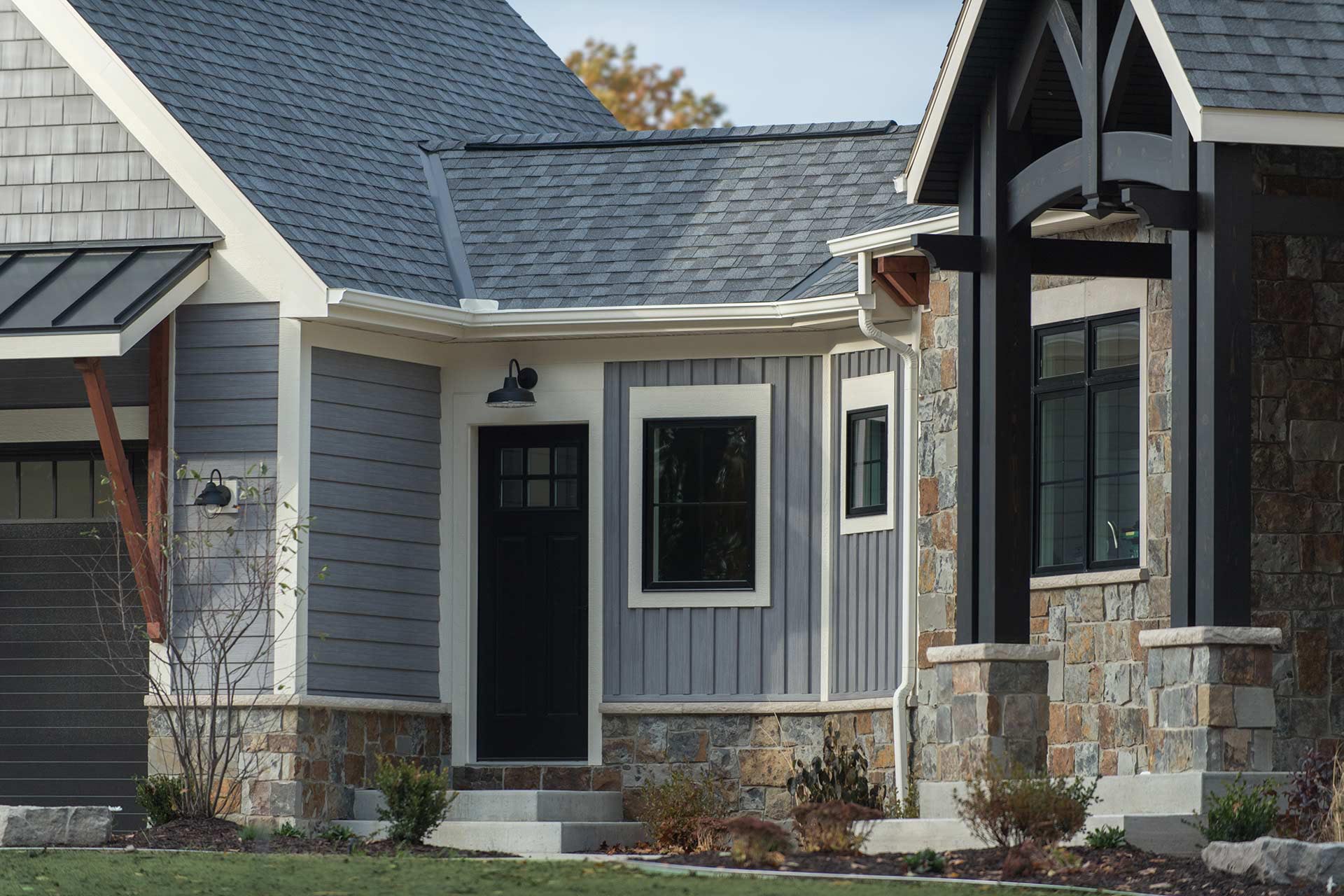 A Craftsman For Any Size Job
Your home is your greatest investment. So, when you need a critical service, such as replacement roofing, siding, soffit, fascia, or gutters, having a home exteriors company that you can rely on to provide top-rated products and customer-centric service can be an incredible relief. At Michael Ryan Exteriors, this is exactly what we're known for. Leveraging decades of experience as home exterior contractors, our team provides value-driven home improvement solutions for homeowners in Edwardsville, Glen Carbon, and Troy, IL, as well as surrounding areas.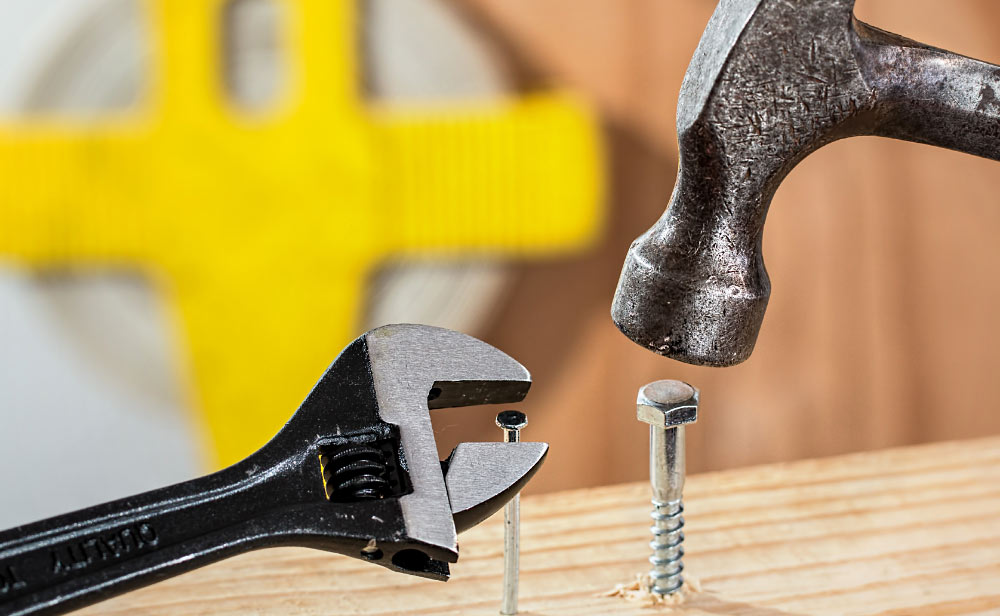 We are home exteriors specialists in the Edwardsville, Glen Carbon, & Troy, Illinois area. We pride ourselves on delivering outstanding quality and craftsmanship for leading clients across the Metro East.